Oh my gosh I have so much to type. I had a big event this past Saturday for our political group, and as a small fundraiser, I volunteered to make cupcakes and brownies. Well I have a lot of icing recipes I wanted to try out but I didn't want to make anything too weird, so I stuck to the classics; patriotic funfetti, and yellow cake with chocolate icing. But to at least try out something fun, I made Pink Lemonade Cupcakes from a recipe I found online at the FoodieBride's Blog. All in all I made 72 cupcakes and 24 brownies. All from box mixes, and we made about $100 from it all so I am very happy.
First, I made the funfetti cupcakes, but this mix did not have the sprinkles already in the bag of ingredients, and I FORGOT to put the separate packet of sprinkles in!!! At least I realized as soon as I put them into the oven that they looked a little plain and I forgot something!!! So I immediately took them out of the oven and put a few sprinkle in each cup of batter and stirred it in with a spoon. This worked out just fine, and one customer even remarked about the "burst of patriotism" in the center of the cupcakes, lol.
Then I made the yellow cupcakes. Nothing exciting there.
THEN I made the pink lemonade cupcakes. Let me tell you, these are STRONG, but I did not cut down the recipe, I liked it a lot. The batter smelled amazing, just like this pink lemonade lipgloss I used to have, YUM! However, the batter was not very pink, even though the lemonade mix was VERY pink, so next time I would add some food coloring. I baked them at the same time and temp as the recipe called for, yet they turned out a little sad, but completely done the whole way through, so I just covered it with the icing. Speaking of, I tried to be all cool and make a piping bag from a ziplock bag, but it didn't work, the bag burst on the first cupcake. SAD! So I just used a butter knife.
*Just so you know, these might not be a hit with children. None of the kids at the fundraiser liked the pink lemonade cupcakes. In the words of one little boy, "They're too sour..........and too sweet." lol
Here is the recipe:
Pink Lemonade Cupcakes
1 1/8 cup (9 oz) frozen Pink Lemonade Concentrate, thawed*
White cake mix (yes, the boxed stuff)
3 egg whites
2 Tbsp vegetable oil
Non-stick spray
1 recipe Lemon Buttercream Icing (recipe follows)
* For a less tart cupcake (and these babies do pack a punch), try reducing the amount of pink lemonade. 3/8 cup water and 3/4 cup pink lemonade will cut the tartness.
In a stand mixer, add the cake mix, egg whites, vegetable oil, and the pink lemonade concentrate. Mix on low for about 30 seconds and then increase to medium speed for 90 seconds (the batter will still be a bit lumpy; take care not to overmix so you don't end up with dry cupcakes).
Spray each cupcake liner with the non-stick spray and spoon the batter into a prepared muffin pan (fill the cups between 2/3 and 3/4 full). Bake at 350 for about 25 minutes or until a toothpick registers "done" in the center cupcake. Remove the pan from the oven and cook 5 minutes. Remove the cupcakes and cool completely on a baking rack.
Once the cupcakes have cooled, make the icing and ice the cupcakes.
Lemon Buttercream Icing
3 cups + 3 Tbsp confectioner's sugar
1 stick unsalted butter at room temperature
1/8 tsp salt
2 Tbsp lemon juice
Red food color (to color icing and sugar, optional)
1/4 cup granulated sugar (optional)
Add the butter, confectioner's sugar, salt, lemon juice, and food coloring (if using) to the stand mixer and mix on low using the paddle attachment until combined. Turn the speed to med-high until the icing is fluffy and uniformly pink. Add the icing to a pastry bag fitted with a 2D tip and ice the cupcakes.
Optional - Add the sugar and a couple drops of the food coloring to a food processor. Process until the sugar turns pink. Spread the sugar onto a plate and let dry for 15 minutes. Sprinkle onto freshly-iced cupcakes and enjoy!
Here are some pictures: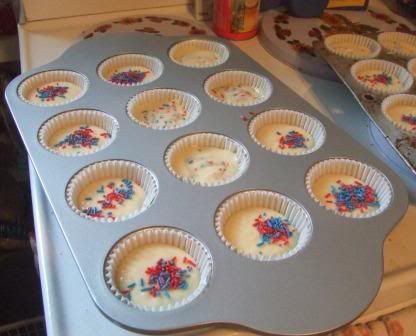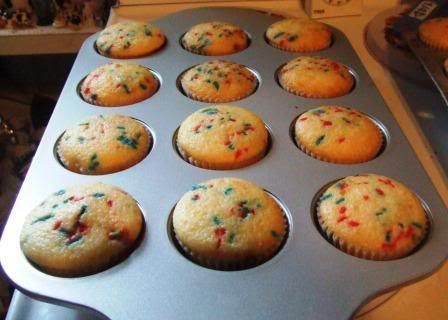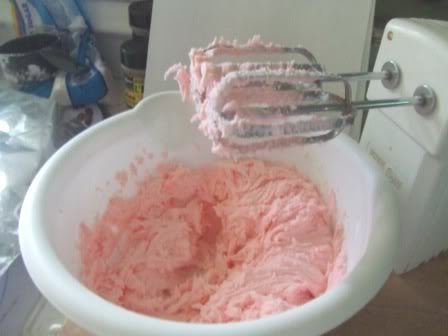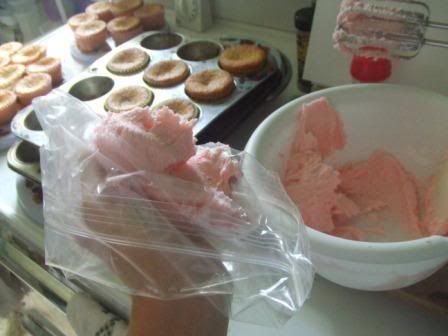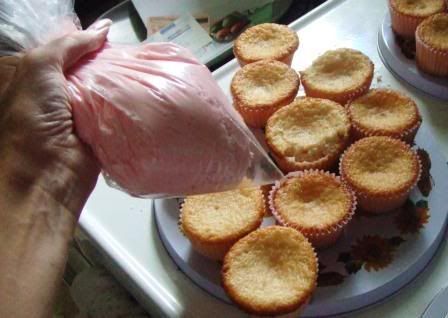 All in all I made 72 cupcakes and 24 brownies. All from box mixes, and we made about $100 from it all so I am very happy.